MADRIX NEBULA
The flexible LED pixel tape driver to directly control over 30 supported SPI protocols.


MADRIX NEBULA is a flexible LED pixel tape driver to directly control a wide range of digital LEDs.
Developed and made in Germany.
The MADRIX NEBULA directly connects to your LED pixels. This advanced SPI decoder receives control data over USB or Art-Net over Ethernet network and is built to provide excellent image quality.
Direct Connection
Directly connect to a wide range of supported LEDs via two 4-pin screw terminals. A signal frequency of up to 24 MHz is available. Supply power over USB or 5 V to 24 V over a 2-pin screw terminal.

Quality Output Of 8 Universes
Each device drives up to 1,360 RGB pixels while ensuring responsive delivery of high-quality signals to each individual LED. You can choose the output protocol separately for each of the two ports.
SPI Converter
Art-Net is directly converted to SPI without the need for an additional interface. Reliably distribute data from any compatible software or hardware controller. Use USB or Art-Net for all the great features of the MADRIX Software.

Sync Mode
Simply use several units at the same time for larger projects. MADRIX Software and hardware allow you to fully synchronize Art-Net data for all ports and across multiple devices to get an optimal image on the LEDs without visual interruptions.
Designed For DIN Rails Or Walls
Its non-conductive enclosure and standardized design for 35 mm top-hat rails make mounting quick, easy, and safe. 2 extra brackets are provided for optional wall mounting. 6 indicators quickly show the device status with the option to turn them off.

Invaluable Features
The device is ready within seconds after startup. Its firmware is upgradable for future features. HTP Merging is automatically available for two Art-Net sources. Use the built-in web tool for configuration.
Supported LEDs
APA101 / APA102 / APA104 / APA106 / GW6201 / GW6205 / LPD1882S / LPD6803 / LPD8806 / MBI6120 / P9883 / SJ1221 / SK6812 / SK6822 / SM16703 / SM16716 / TLS3001 / TLS3008 / TM1804 / TM1809 / TM1812 / TM1814 / TM1829 / UCS1903 / UCS512B3 / UCS9812S / WS2801 / WS2803 / WS2811 / WS2811S / WS2812 / WS2812B / WS2813 / WS2815 / WS2818 / WS2822S / WS2822S Addressing

As of February 2018. Additional LED types will be supported with future firmware updates.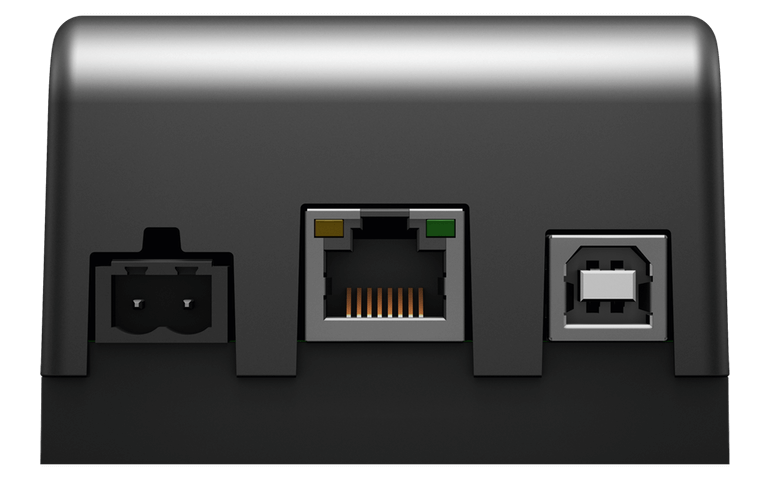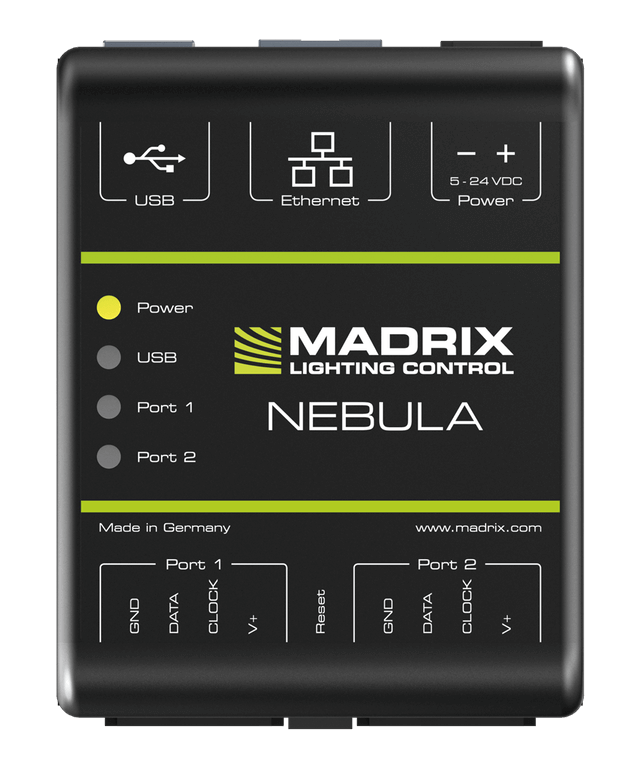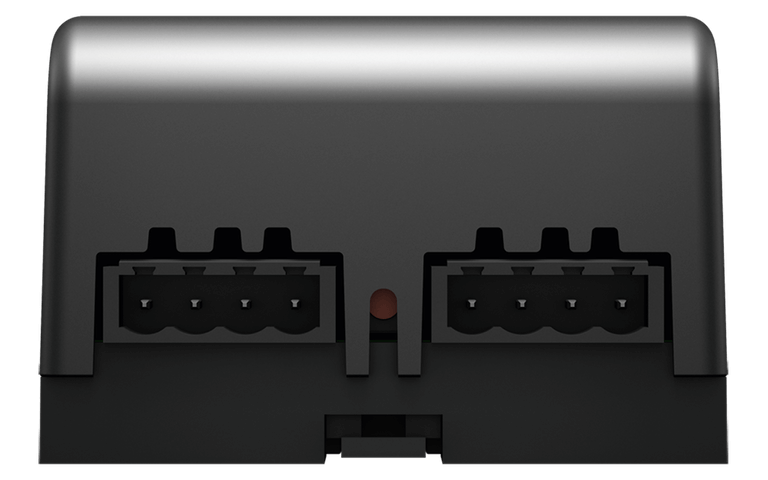 Connectivity
2x OUT (screw terminals)
1x RJ45 Ethernet port
1x USB port
1x Power (screw terminal)
Package Contents
MADRIX NEBULA
Set of screw terminals (2x 4-pin and 1x 2-pin)
USB cable
MADRIX Software (license not included)
2 wall-mount brackets
It Is Your Choice
MADRIX products are proudly designed, engineered, and made in Germany. We are creating high-quality products for you that are easy to use and reliable. Innovative features will bring you the best results. And opting for such highly manageable products means that you can drastically reduce on-site support; and thus your time and costs. But it does not stop there.

We Have Made Ours
We feel that our responsibility is more than just creating prime products. We are also responsible of how we create them. We are intentionally choosing eco power for our office. We have deliberately chosen cardboard as the main part of our product packaging, since it is a renewable resource. In this way, we are also actively minimizing our plastics usage to reduce the environmental impact.